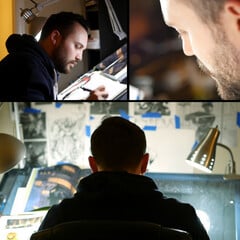 Zach Britton
Concept Artist, Illustrator, & Leader
Denver, United States
About
My name is Zach C. Britton and I've known I wanted to be an artist ever since I cracked open my first comic book at five years old. I earned a B.A. in Art and Design from the University of Northern Colorado in 2014 and since then, I've gained eight years of experience in a variety of high-output businesses. I have experience in web design, client, people and project leadership, data analytics and culture development. Throughout those eight years, I've never lost my passion or drive for art. I've spent hours outside of work escaping to fantastical and sci-fi realms, world-building and practicing storytelling through sketching, digital painting and concept design. I'll never stop exploring my passion for both art and leadership.
Skills
Leadership
Illustration
Character Design
Concept Art
Concept Design
Visual Development
Art Direction
Graphic Design
Pixel Art
UX Design
Software proficiency

Procreate

Photoshop

Illustrator

InDesign
Experience
Five years ago, I started as a Jr. Designer at Brighter Vision, the leading digital marketing provider for therapists, and I am now the Senior Director of Operations. I currently direct the operation of this multimillion-dollar web design and marketing company. I aid in the strategic vision of our company in close collaboration with our DMS President and I am responsible for our net retention and customer satisfaction. I have designed processes, systems, and tools to double overall productivity, and over those five years, I have created a culture of equity, dismantled any hierarchy of ideas, and doubled our team's size while maintaining a strong culture. I consistently work to remove information silos, foster collaboration, and actively work to inspire my team to pursue their passions both inside and outside the workplace.